RabbitHuntingOnline.com Decal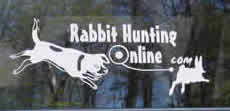 It's a little over 7 inches long and about 4 inches tall.
Made of tough, white 5-yr vinyl. To install, just clean surface, peel off plastic to expose adhesive side, press against surface, take any flat edge and smooth out, peel off backing and viola`, your decal is complete.
This decal will look really nice on auto glass, or a dog box or anything else!
$7.00 each and FREE shipping!